Market researcher predicts buoyant self build market despite recent slowdown
19 January 2016
Source Self Build Portal
A lead economist is predicting an upturn in the self build market, despite new figures showing minimal growth in the number of planning applications for new self build homes in 2015.
Just under 18,000 were submitted last year, 30 per cent below the historic 2010 peak figure. The latest data from construction industry analysts Barbour ABI also indicates that self build planning applications in 2015 were the second lowest for eight years, with only 2014 faring worse. These figures are more surprising considering the apparent turn-around over the last two years within the housing market.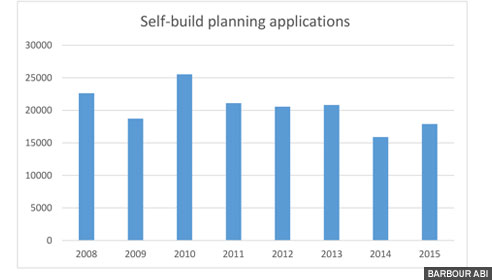 Commenting on the figures, Barbour ABI's Michael Dall said: "With a Government-backed £350 million boost to funding for self build and a commitment to removing the main barriers that hold back many thousands of custom build projects every year, the news is not encouraging that self build planning applications are still below the levels that they were in the midst of the recession.
"However with the recent changes that have come into force, such as councils freeing up more land for self build and an increase in grants available, this should have a positive effect on the forecasted number of self build applications in 2016."
The custom and self build industry turns over £4 billion a year and provides a substantial amount to the national economy. And in October the Government released the Housing and Planning Bill which it hopes will spark a national transformation from 'generation rent into generation buy' with a target of building 20,000 self-build homes a year by 2020.
Tags: self build insurance, self-build, structural warranty
Trackback from your site.